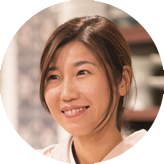 President & CEO
Misa Miyake

Time with delicious meal makes people happy. So I opened first restaurant when I was 21 years old for creating blissful time for guests. I would like to offer workplace for our women staffs where they can work even if they have a baby or some children.
Qualification: Nutritionist / Cooker / Japanese Shochu Advisor / Cooking Teacher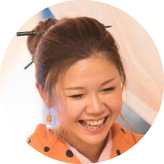 Chef and
Okami
(manager of restaurant in Japanese)
Satoko Miyake
My policy is "One-in-a-lifetime opportunity".
Thank you for visiting our web site and I appreciate that encounter with you.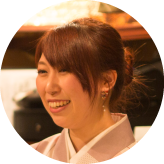 Second
Okami
Manami Niioka
I hope that you will be happy in our restaurant and you will be blissful feeling with our hearty hospitality-Omotenashi- of our lovely team.

Company
Hyo-tan shimai inc.
Address of head office
Kitazima9-9-1, Gifu-city, Gifu Japan Post code: 502-0911
Restaurant Osen Address of restaurant
Fujiya building 2F 3F 4F, Hane-machi 30-3, Gifu-city, Gifu, Japan
Post code: 500-8834
Started business
29/July/2005
Establishment
11/November/2011

2005 July
Opened 1stst restaurant "Season ketchen Sakanaya"
2008 Nov
Opened 2ndnd restaurant "Osen"
2011 Jan
Started activity of Reconstruction support for Tohoku Earthquake
2011 July
Performanced of dinner show at Gifu Grand Hotel :Continuously for 3 years
2011 Nov
Established Hyotan-Shimai resort inc.
2014 Aug
Sold 1stst restaurant
2014 Oct
Opend Oserinyo at 2nd floor,
2014 Nov
Opend Osen de party at 3rd floor, rental space at 4th floor
2017 Jun
Joined the membership of the marketing project for "Tamamiya town"

This error message is only visible to WordPress admins
Error: No connected account.
Please go to the Instagram Feed settings page to connect an account.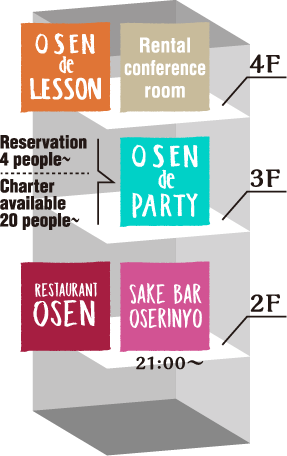 Fujiya building 2F 3F 4F, Hane-machi 30-3, Gifu-city, Gifu, Japan
Post code: 500-8834
2 hours from Tokyo station by SHINKANSEN-Bullet train/
20 min from Nagoya station by JR / MEITETSU/
1 hour from Nagoya Airport
Open: from 17:00pm till midnight
Closed: On Sunday [when Monday is public holiday, open on Sunday and close on Monday]
You can make a reservation from the following.
✉ osen.yoyaku@gmail.com