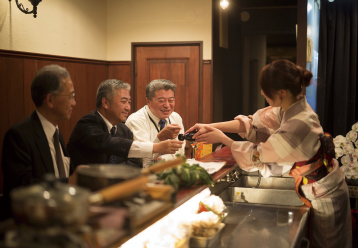 Welcome back home!
This Japanese
"Izakaya"
style restaurant is…
Everyone opens their heart and come to know each other with our typical meals, Sake and our hospitality-
"Omotenashi"
.
Waiting for you as our family!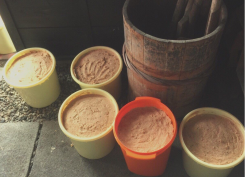 Homemade One year Miso
Use for meals after Brewed one year from the beginning of the year with some beans still remained. It is handmade Miso with the smell of malt which is living.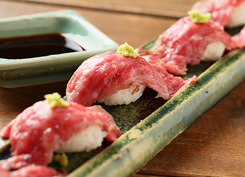 Hida Beef
Hida Beef is raised by pure mountain water and air in great nature Gifu with special care. Quite delicate deliciousness holds your tongue. You will be understood the reason why Hida beef is the highest price in Japan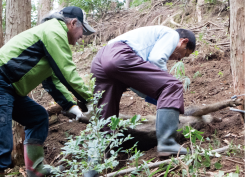 Nature food and ingredients
Wild boar and deer which are hunted by old traditional ways of hunting "Kukuri-nawa", Sweetfish-Ayu- taken one by one using live decoys, Wild mushrooms and plants, fresh natural fishes from Japan Sea. These natural tastes grown up by their own natural environment is the most luxury ingredients.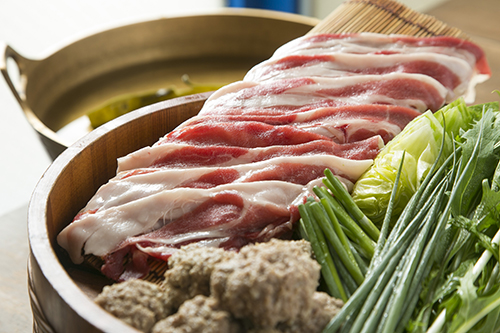 Shabu-Shabu of superb wild boar
[Shabu-Shabu] spring limited (wild boar slice / minced meat bowl / wild plants of mountain / vegetables / kelp stock soaked overnight ) [Yakiniku] summer limited (Grilled wild boar / garlic / with vegetables / home made source) [Shabu-Shabu with Miso] Autumn limited (wild boar slice / Japanese aubergine / spring onion / home made Miso and bonito stock) [Miso Nabe ] winter limited (wild boar slice / root vegetables / garlic / home made special Miso stock)
Local cuisine of Gifu Grilled Ayu –river fish(sweet fish)- with salt
Ayu, especially natural born Ayu is a brand in Gifu. Fishing with decoys Ayu is traditional fishing method. You can try them from Jun to October and you can enjoy Ayu with roe from September.
Course with the best of the season
Seasonal course 3300yen / 4000yen / 6000yen Typical cuisine course of Gifu 3500yen / 4000yen /4500yen / 6000yen
※You can also enjoy A la carte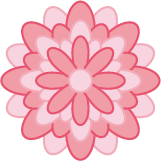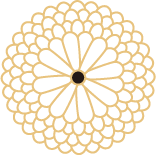 This error message is only visible to WordPress admins
Error: No connected account.
Please go to the Instagram Feed settings page to connect an account.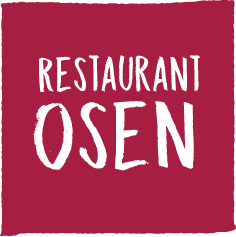 Fujiya building 2F, Hane-machi 30-3, Gifu-city, Gifu, Japan
Post code: 500-8834
2 hours from Tokyo station by SHINKANSEN-Bullet train/
20 min from Nagoya station by JR / MEITETSU/
1 hour from Nagoya Airport
Open: from 17:00pm till midnight
Closed: On Sunday [when Monday is public holiday, open on Sunday and close on Monday]
You can make a reservation from the following.
✉ osen.yoyaku@gmail.com